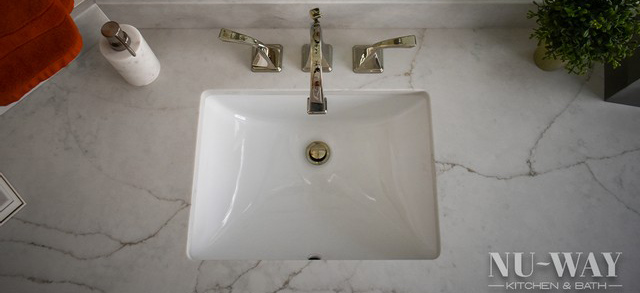 Visit the Nu-Way Kitchen & Bath showroom for assistance in selecting your bathroom sinks that complement the other fixtures and provide a focal point for your bathroom designs. You can look at a variety of bathroom sinks, and vanity sinks in our large, fully furnished showroom before you make your decisions.
Since sinks — also called lavatory sinks (wash basins) or lavatories — are probably the most frequently used fixture in the bathroom, your new bathroom sink or vanity sink should look as attractive as possible, function as needed, and be durable enough to last for years. There is a wide range of styles available, based on the space you have available, the look you want, and the budget you are working with.
With our help, you will be able to select a bathroom sink or vanity sink for every bathroom in your home. We will review your bathroom decorating plans with you and help you narrow down your options based on your plumbing requirements and floor plans.
Nu-Way Kitchen & Bath offers bathroom sinks from Toto, Premier Copper, Madeli and Mansfield.