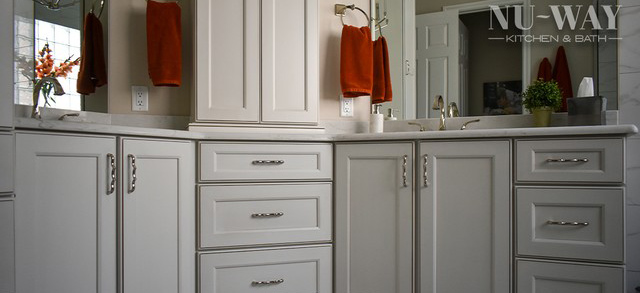 At Nu-Way Kitchen & Bath, we will talk with you about everything you will need to think about when considering bath vanities for your new home construction or your bathroom remodel.
When considering bathroom vanities, you will have to determine whether you want a freestanding bathroom vanity — these are also called furniture style bathroom vanities — or a built-in one. Whichever way you decide, you should be sure that your bathroom vanity cabinet contains enough storage space for your toiletries and counter space for your bathroom activities. You can pick from custom bath cabinetry, semi-custom, or stock bath cabinets for your bathroom vanity cabinets. On top of that, you will also need to decide on the hardware for your bathroom cabinetry, such as drawer pulls, bathroom cabinet handles, and other accessory hardware items used inside the drawers and cabinets as well as throughout the bathroom. We will review the many available options with you and help you make the decisions that are right for your new bathroom vanities.
Nu-Way Kitchen & Bath offers bathroom vanities from Pioneer Cabinetry, StarMark Cabinetry and Madeli.