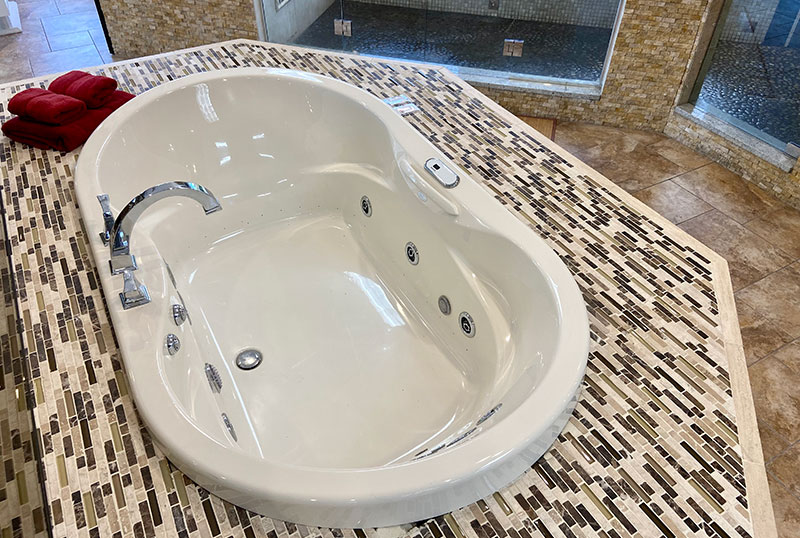 Whirlpool tubs offer a relaxing spa experience right in your own home. A whirlpool tub is a soaking tub that uses an electric pump to circulate the water through its pipes. While you are immersed in water set to the temperature you prefer, the circulated water enters the whirlpool bathtub in pressurized jets of water positioned in various places throughout the tub.
Air tubs, also known as air massage tubs and air jet tubs, work by releasing a steady stream of warm air into the water from outlets located throughout the tub. Because these tubs circulate air instead of water, their piping systems are automatically dried out after each use. With air baths, you can use bath oils and bath salts to enhance your spa experience. In addition, air bathtubs are often less expensive than whirlpool tubs, and may fit into a smaller footprint in your bathroom.
When you are selecting a hydrotherapy tub or an air massage bathtub, visit the Nu-Way Kitchen & Bath to find out everything you will need to know about the products available and how they are designed. Our knowledgeable and experienced sales associates can help you make your selections based on your personal preferences and the budget you are working with. We will give you all the information you or your contractor will need to install the hydromassage tub or air massage bathtub.
Nu-Way Kitchen & Bath carries whirlpool tubs from purewater baths, Mansfield and MAAX.